The Perfect Grass Fed Hamburger
Hamburgers shout out to be grilled on a iron skillet, grill pan, or BBQ!.
Everyone has their favorite way to make hamburgers.
We like the following;
Gently form the chop meat into thick hamburger patties. Try to carefully form the chop meat, rather than mush it together. If the chopped meat is loosely formed, the heat can reach the interior of the burger, and melt the fat easier, without burning the outside and under cooking the inside.
We like to put a few drops of soy sauce, or Braggs on the patty, which if loosely formed penetrates into the burger.
Heat the grill or olive oiled iron skillet, until nice and hot.
Place patty on the grill, and cook for about 5 minutes, until sides start to get brown, -for medium rare- depending on thickness of burger and degree of heat of the pan.
Flip once, place cheese on the burger if desired, and cook for an addition roughly 5 minutes, for medium rare. You can always cook the burger more, if someone wants a more well done burger, you can not cook the burger less!
Take the burger off the grill, and let sit on your bread of choice.
Grass Fed Cheeseburger
Grass Fed Hamburger topped with melted cheddar cheese, tomatoes, Bermuda onions, and Romaine lettuce.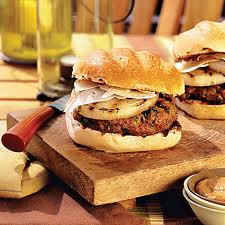 Grass Fed Hamburger
BBQ Grass Fed Hamburger topped with sauteed onions, and sliced parmasean cheese.