Grass Fed Sirloin Tip Roast
FARMEATS GRASS FED SIRLOIN TIP
ROAST BEEF!

NICE AND JUICY, BEEFY ROAST BEEF!
AS ANDY NY CHUP SAYS
"FARMEATS GRASS FED BEEF
TASTES LIKE THE SUNSHINE AND GRASS!"

MOST FOLKS ARE INTIMIDATED BY A LARGE HUNK OF SIRLOIN TIP ROAST.
WHEN IT IS ACTUALLY A SIMPLE CUT TO COOK.
THE TRICK IS TO INSURE THE INTERNAL TEMPERATURE OF THE COOKED BEEF IS RARE 120 DEGREES
(A MEAT THERMOMETER IS CRUCIAL HERE)

START OFF BY SALTING THE ROAST THE DAY BEFORE YOU'RE GOING TO BE COOKING IT (THIS WILL GIVE A MORE FLAVORFUL, EVENLY SALTED ROAST).
THE NEXT DAY, REMOVE THE ROAST ABOUT AN HOUR BEFORE COOKING (ALLOWING IT TO WARM TO ROOM TEMPERATURE).
PLACE YOUR OVEN RACK IN THE MIDDLE AND PREHEAT TO 250°F. WHILE THE OVEN IS PREHEATING, RUB YOUR ROAST WITH ½ A TABLESPOON OF OIL AND MINCED GARLIC, THEN EVENLY RUB WITH YOUR SPICE MIXTURE (PEPPER, OREGANO, BASIL, RED PEPPER FLAKES).
IN A LARGE CAST IRON PAN ON MEDIUM-HIGH HEAT WITH A TABLESPOON OF OIL, SEAR EACH SIDE OF YOUR ROAST UNTIL BROWNED (3-4 MINUTES PER SIDE).
ONCE OVEN IS PREHEATED, PLACE THE ROAST ON A WIRE RACK ON A RIMMED BAKING PAN.
COOK THE ROAST FOR ABOUT 45 MINUTES, OR UNTIL THE MEAT REACHES 110°F ON YOUR MEAT THERMOMETER.
TURN YOUR OVEN OFF, LEAVING THE ROAST IN FOR ABOUT 10 MINUTES - UNTIL IT REACHES 120°F FOR RARE.
AFTER THE ROAST REACHES YOUR DESIRED TEMPERATURE, REMOVE FROM THE OVEN AND ALLOW TO REST FOR 15 MINUTES.
THEN SLICE AGAINST THE GRAIN, IN THIN SLICES AND SERVE WITH ROASTED POTATOES, OR SAUTÉED GREENS!
GREAT FOR LEFTOVERS! THE ROAST MAKES AWESOME SANDWICH STEAKS, FOR THE NEXT COUPLE OF DAYS!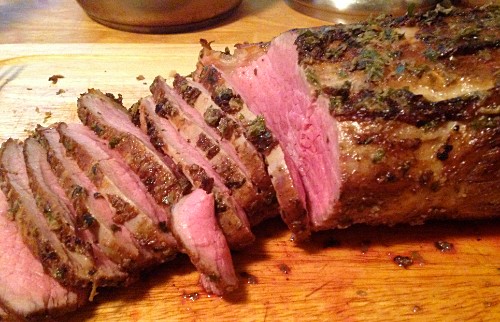 Grass Fed Sirloin Tip Roast
Nice and Rare, sliced against the grain.